Why Penthouses At The Bugatti Residences are high in Demand?
The penthouses at the Bugatti Residences have established themselves as a peak of luxury and architectural brilliance in Dubai's fast-expanding real estate market. These penthouses, nestled among the wealth and grandeur that distinguishes Dubai, are a monument to exclusivity and modern sophistication. A combination of reasons, such as unrivalled views of the metropolitan skyline, a balance of contemporary aesthetics with maximum comfort, and a relationship with the famed Bugatti brand, synonymous with luxury, innovation, and supreme craftsmanship, sustains their popularity. The Bugatti Residence penthouses for sale attract discerning clients by encapsulating a living experience where elegance meets cutting-edge conveniences, positioning them as the ultimate luxury living in the heart of Dubai. This blog is the perfect read to explore the reasons behind the high demand for penthouses in Dubai's Bugatti Residence!
Reasons of Penthouses At The Bugatti Residences Higher Demand
Following are the reasons behind demanding penthouses in Bugatti Residences.
1- Drive in Penthouses of Dubai:
The Drive-ins concept is all about food chains and theatres, but to extend the limit of this theme, Bugatti Residences penthouses in Dubai are offering for the first time. They are usually associated with outdoor theatres, but now they have a residential moment. A new luxury complex by Bugatti — the automaker's first residential project set to feature, among other lavish amenities, penthouse suites equipped with car elevators is why Bugatti Residence is in demand for the Dubai property market. Bugatti is creating an eponymous opulent building in partnership with Binghatti, an Emirati developer, with newly released renderings promising a glittering future escape.
2- Mind Boggling Layout: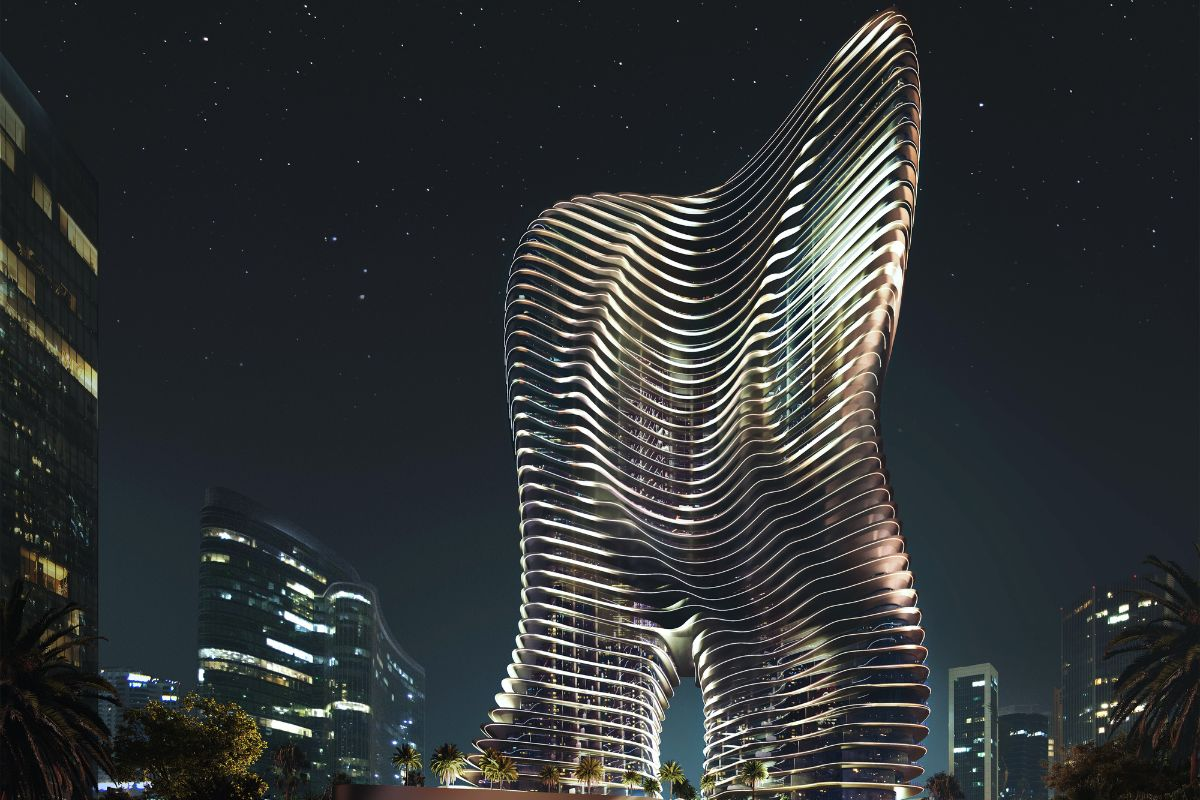 The gigantic tower dominates the skyline with its dazzling silver skin that seems to flow with its own life, nestled in the throbbing centre of the modern Business Bay sector. A thrilling bird's eye view reveals a series of cascading rooftop pools that are carefully tiered to guarantee each retreat is bathed in natural light. The venture proudly presents 171 "Riviera residences" and an elite collection of 11 "sky-high palace penthouses," each furnished with an array of luxury items such as a private beach, a bespoke fitness sanctuary, and a gourmet chef's table, promising a life steeped in luxury and comfort.
3- Exceptional Amenities:
According to the official announcement, residents will also have access to a specialized valet, an extravagant members' club, and groundbreaking "garage-to-penthouse car lifts. In addition, residents will enjoy a premium suite of bespoke services, including a "custom chauffeur and concierge" service, elevating the living experience to unprecedented levels of elegance and ease. Furthermore, buyers of penthouses at Bugatti Residences can relax in a private pool, work at the fitness centre, and indulge in various gastronomic pleasures.
4- Heavenly Lifestyle
Muhammad Binghatti, CEO of Binghatti, said: "When you open the door of a Bugatti and sit inside, you know instantly that it's extraordinary, something truly incomparable.
Penthouses in Dubai by Bugatti Residences are a beacon of unrivalled artistry, combining creative design with exquisite attention to minor details. Buyers of this project are welcome to immerse themselves in a world of luxury and ease, with access to a wide choice of exceptional amenities. Every facet of residents' desires is methodically catered to, guaranteeing your lifestyle's utmost satisfaction and tranquillity.
5- A dream spot for the fitness enthusiast
Bugatti Residences penthouses in Dubai boast an elite VIP lounge, complemented by a personal bodyguard and butler services, making the living experience magnificent and exclusivity. A state-of-the-art vehicle elevator permits seamless transfers from the secure parking zone to residents' luxurious penthouses in Dubai, adding volume to the grandeur. The property provides a state-of-the-art fitness centre and a calming sauna for individuals looking to rejuvenate and maintain a healthy lifestyle, epitomizing luxury living in every facet. Thus, it is a valid reason for the high demand for the penthouse of Bugatti Residence.
6- Reputable Developer
The glimmering skyscrapers of Dubai always hymn the name of the developer who celebrated in real estate with the most credibility – none other than Binghatti Developers. Binghatti has carved out a niche as Dubai's most recognized and trustworthy developer, serving as a light of dependability and inventiveness in the competitive real estate arena.
Binghatti Developers is in charge of the highly awaited Bugatti Residences project, adding another feather to its illustrious cap of high-end constructions. This initiative is expected to be in high demand, a tribute to Binghatti's exceptional and reliable track record in Dubai's vibrant property sector. Binghatti Developers, with a rich history of cultivating sumptuous and pioneering habitats, has been relentlessly pushing the frontiers of innovation, bringing out residences that are not simply dwellings but epitomes of art and luxury. Their unrelenting quest for perfection is powerfully embodied in the Bugatti Residences' careful design and outstanding craftsmanship.
7- Astonishing Prices
It's a brainer that such a luxurious offering comes with subtle prices. Penthouses in Bugatti Residences is one of Dubai's most pricy & opulent residential properties. Starting with the cosy 1-bedroom alternatives, the cost ranges from 0.45M to an average of AED 2M. Those seeking additional space can choose between the 2-bedroom and 3-bedroom flats, which have an average market value of AED 9M and AED 12M, respectively. Prospective homeowners seeking even greater horizons may be drawn to the 4-bedroom properties, which range from 0.48M to a stunning 100M, with an average price point of AED 27M. The trip into grandeur does not end here, as the 5-bedroom options start at 3M and top out at an astonishing 125M, with an average price of AED 48M.
Bugatti Residence is priced at $204.22 million for a penthouse in Dubai.
The 6-bedroom apartments are a distinct category for the crème de la crème, starting at 40M and averaging the same. The sumptuous 7-bedroom sanctuaries range from 19M to 37M, having an average value of AED 28 M.. Each tier offers a variety of intriguing view possibilities, guaranteeing future inhabitants a lifestyle of unrivalled luxury and tailored comfort in the heart of Dubai.
8- Payment Plan
Starting your road to buy a penthouse in Dubai at Bugatti Residences is more accessible than expected. The developer has a professionally designed payment plan to ease your financial journey. Begin your adventure with a 25% down payment at the time of booking, laying the groundwork for your ascension into the world of luxury. As time passes, the second instalment, which accounts for 45% of the total cost, can be easily managed within a liberal timeframe of 31 months from the initial booking. This extended period enables flexible and convenient financial planning. Finally, as you near the completion of your ideal home, a final payment of 30% is due at handover, signalling the exhilarating moment when you enter into a realm of unparalleled luxury and comfort. This tiered payment plan is intended to make payments more straightforward and ease you into a life of elegance and exclusivity.
Conclusion
The city famed for delivering marvellous projects with ultra-modern architecture and modern amenities – Binghatti developers have carved out a segment in the Dubai Property Market for Bugatti Residences. Proposing exception penthouses for sale in Dubai – Bugatti Residences are setting up new standards for luxurious living. In the heart of Dubai, a city renowned for its ultra-modern architecture and luxury, the Bugatti Residences emerge as a pinnacle of luxury and innovation in the real estate landscape, setting a new standard in high-end living. This grandiose project, the brainchild of reputed Binghatti Developers, flawlessly encapsulates a blend of cutting-edge technology and unrivalled splendour, providing residents with a life immersed in exclusivity and comfort. The building is committed to excellence and refinement with its revolutionary drive-in concept, visually appealing silver facade, tiered rooftop pools, and high-end facilities, including individual chauffeur and concierge services. Furthermore, a well-thought-out financial strategy eases the transition into a realm where every aspect of life reflects the ultimate sophistication and elegance, establishing the Bugatti Residences penthouses in Dubai as more than just a residential complex but a monument to the future of affluent urban living.